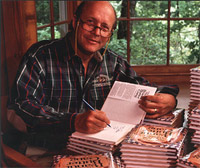 H. Jackson Brown, Jr. is an American author of over 30 books. His works have sold millions of copies worldwide and have been translated into dozens of languages. His most famous book, Life's Little Instruction Book was originally written as a gift for his son who was leaving home to begin college. It ended up spending more than two years on the New York Times' Best Sellers list.
H. Jackson Brown, Jr. is also the author of the popular 21 Suggestions for Success, a collection of simple advice for being successful and happy in all areas of life. In addition, there are many other inspirational and practical quotes by H. Jackson Brown, Jr.
Today, H. Jackson Brown, Jr. continues to ponder and write from his remote log cabin in the foothills of the Smokey Mountains.